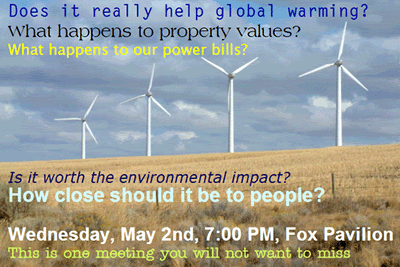 You won't want to miss this one!
Mark your calendars for May 2nd at 7:00 PM! All citizens of Ellis County, Kansas, are welcome to attend a very interesting and very enlightening free presentation at the Fox Pavilion, 1202 Main Street, Downtown Hays. Beverage service available; seating for 450 people!
This is a great opportunity to gather some facts about the proposed wind farm and to see and talk with other local citizens in Ellis County about the project. Admission is free but seating may be limited. Come early and make sure that you get a good seat!
Get involved with your community! Join us for this civic event!
Please click the picture above to see or print the flyer to share with others!